GIANTS
This makes us wonder what else we've read over.
When men began to increase on earth and daughters were born to them, the divine beings saw how beautiful the daughters of men were and took wives from among those that pleased them. The LORD said, 'My breath shall not abide in man forever, since he too is flesh; let the days allowed him be one hundred and twenty years.' It was then, and later too, that the Nephilim appeared on earth - when the divine beings cohabited with the daughters of men, who bore them offspring. They were the heroes of old, the men of renown." - Genesis 6:1-4
"ALL TRUTH PASSES THROUGH THREE
STAGES. FIRST IT IS RIDICULED, SECOND
IT IS VIOLENTLY OPPOSED, AND THIRD...
IT IS ACCEPTED AS SELF-EVIDENT."
- Arthur Schopenhauer -
German Philosopher, 1788-1860
Below pictures are links to other sites for proof.
http://www.kent-hovind.com/articles/pics/thigh-egypt.htm
http://www.kent-hovind.com/articles/them_bones.htm
http://paranormal.about.com/od/mysteriousremains/a/aa060605.htm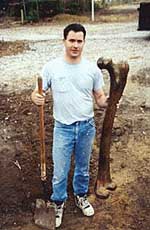 http://www.mysteriousworld.com/Journal/2003/Summer/Giants/
http://ourworld.compuserve.com/homepages/DP5/ape2.htm This photo of a 'fossilized Irish giant' was taken at a London rail depot, and appeared in the December 1895 issue of Strand Magazine. The giant was allegedly dug up by a Mr Dyer while prospecting for iron ore in County Antrim (Ireland). It was 12 ft 2 in (3.71 m) tall, weighed 2 tonnes, and had 6 toes on its right foot. After being exhibited in Dublin, it was brought to England and exhibited in Liverpool and Manchester at sixpence a head, 'attracting scientific men as well as gaping sightseers'.10 After a legal dispute over ownership, nothing more appears to have been heard or seen of the exhibit.
http://www.kacr.or.kr/library/itemview.asp?no=474&series_id=A0002
http://www.reformation.org/noah.html
http://www.lostworldmuseum.com/
http://www.roadsideamerica.com/tnews/NewsItemDisplay.php3?Tip_AttrId=12816
http://www.noahsark-naxuan.com/Slide3.htm
http://paleo.cc/paluxy/carson.htm
http://www.tracone.com/the_unexplained/skeletons/
http://home.att.net/~warplover/06_the_nephilim.html
http://www.stevequayle.com/
http://www.stevequayle.com/Giants/charts/charts.html
http://www.stevequayle.com/Giants/N.Am/hidden.proofs.giant.race.html http://www.stevequayle.com/
http://www.returnofthenephilim.com/
http://www.nwcreation.net/nephilim.html
http://www.earth-history.com/Earth-05.htm